Kesurokai in Japanese means 'planing together' and the events were started in Japan in 1995 by the highly respected temple carpenter Sugimura San. His aim was to bring together different craftsmen who normally work remotely to exchange traditional craft techniques and knowledge. At the centre of the events is a competition to produce long, paper thin shavings from a block of wood with a plane,a test of the craftsman's sharpening as well as tool skills.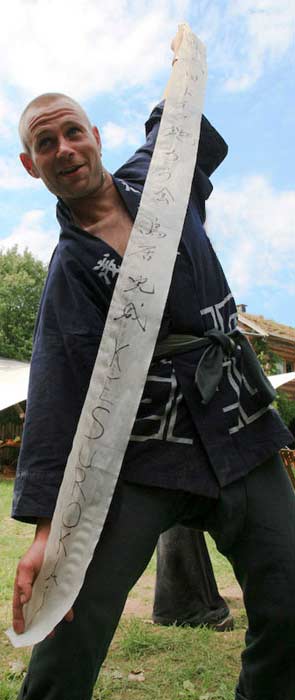 These events serve not only the practical purpose of ensuring age-old skills are maintained, but also create a sense of community amongst the craftsmen, helping them maintain their businesses. The Kesurokai movement has around 1500 members in Japan and holds twice yearly meetings all over the country.
With the success of the Japanese Kesurokai, Sugimura San felt the format could be used to promote traditional craft in other countries and the opportunity presented itself through German carpenter Hannes Schnelle. Hannes originally undertook a three year cabinet-making apprenticeship in Germany, then became a journeyman, travelling widely to practice his skills and broaden his knowledge. During this period he spent a significant period of time in Japan, becoming Sugimura San's last apprentice before semi-retirement.
So, the first European Kesurokai was held in Germany in 2005, providing a showcase of craftsmanship from a wide variety of European countries; Germany, Britain, France, Czechoslovakia, Sweden, Holland and more, along with a Japanese delegation led by Sugimura San. In 2007 Hannes organised a more ambitious event in Germany, with the European and Japanese carpenters working together to build a torii, a traditional Japanese gateway that forms an entrance to a shrine. The next Kesurokai event in 2010 will see Hannes take a group of European craftsmen back to Japan to work with their compatriots building a Japanese tea house together.
In an age of rapid technological development, where innovation seems to be held in higher regard than skill, Kesurokai presents a fascinating return to basic values. Through working together, these craftsmen overcome cultural and language barriers to ensure that age-old skills continue as part of our cultural heritage. They show that these crafts are not just a relic of the past, but can also be a formative part of our future as we deal with issues of scarcity of resources and sustainability.