The timber frames of both buildings are really coming together now all the beams have been hewn and the joints are now being cut. Each piece is carefully marked out first; the Europeans are using a special laying-out floor for this purpose. It has been marked out using traditional daisy-wheel geometry, which is too complex to explain now, but I have it on video and might attempt an explanation of the basics once I get home!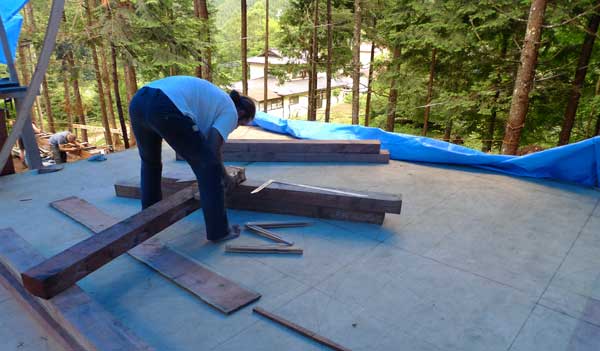 The groups are still working one each others projects so there is a lovely mix of Japanese and European people and tools throughout the site. Some of the joints are amazingly complex and it must take quite some skill to cut them accurately.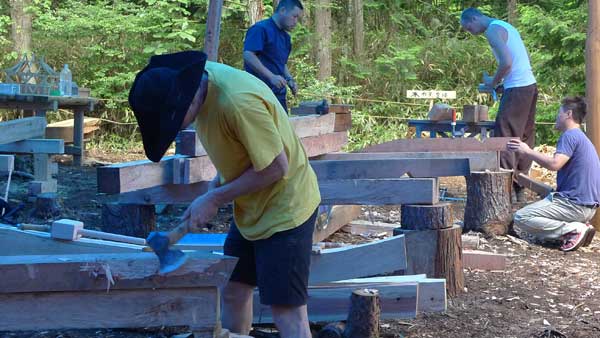 Each joint will be tested by putting together each section of the frame on the laying-out floor, then fine adjustments will be made until the whole building has been put together and taken apart in sections many times. Then finally the whole frame will be put together ... at the current rate of work we expect that will be on Sunday for both buildings*.
My video for the day shows the difference between European and Japanese adzes. The European version has become less popular on site since the carpenters have found the Japanese ones (chouna) work superbly well. Here you can see both in action and our host Amemiya san showing one of the European carpenters how to use the chouna:
*Apologies for a lack of photos of the Japanese site. We have been having very heavy rain so large areas of the site have blue tarpaulin covers which make photography impossible. We were warned about the possibility of a typhoon this afternoon and if that had happened we would have had to remove all the tarpaulins, tie everything down and leave the site. Thankfully it did not develop and we could work on!