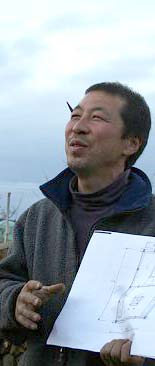 Kunihiro  Amemiya, a highly respected 'hewing master', is the main organiser for Chisana Kesurokai in Japan.
He is an expert in traditional carpentry techniques and runs his own business building and repairing traditional houses. He was involved in the two previous European Kesorokai events, which were his inspiration to bring the European carpenters back to Japan for this event.
He started preparations in August 2008 and a huge amount of work has been done since; preparing the ground, selecting and preparing the timber, organising funding and planning permission. Amemiya san maintains a wonderful photo blog documenting progress on site; in Japanese or English via Google translate (click on 'activities' to see the photos).
The site, in the countryside NE of Kōshū City, Yamanashi Prefecture, is special to him, being near his place of birth, but it was greatly overgrown. The bamboo has now been cleared and an old building there made into a base for the carpenters. If you explore the blog you will find wonderful pictures of them felling trees and processing the timber, and also cooking and eating together.
This is part of what makes Kesurokai so special. Not only do the carpenters work together, sharing their skills, but they also live together, sharing food and conversation. This leads to real insight and understanding of each others' cultures overcoming the language barriers.
To finish, here is some video taken at the 2005 Kesurokai by Robin and edited by myself:
... and there is more video here of Amemiya san using a Japanese saw to cut a trunk into slabs.