I recently started re-reading Soetsu Yanagi's book The Unknown Craftsman and am feeling a little frustrated. I enjoyed it so much last time, but now I have mixed feelings.
Having read Brian Moeran's book Folk Art Potters of Japan (see background reading) I am tuned into the close relationship between Yanagi and Bernard Leach, and see how they greatly influenced each others thinking. Now, as I read the Unknown Craftsman, I am not sure whose voice I hear. Leach reveals in the foreword that he had to abandon his original manuscript after an assistant, who was fluent in both English and Japanese, revealed it was "too much my [Leach's] interpretation of Yanagi to be called a translation."
I feel as if I am reading Yanagi through a lens created by Leach and would love a more neutral translation. Of course the best would be to read it in Japanese, but I have to be realistic and acknowledge that will never happen. (I am a huge fan of classic literature and have always had a fancy to read Dostoevsky and Tolstoy in their native language too!)
It is none the less a good book, I just see it in a different light now. The Leach / Yanagi vision of aesthetics is an east-west fusion, interesting in its own right, but perhaps not the insight into traditional Japanese aesthetics I was after.
Off on a tangent with a different flawed beauty...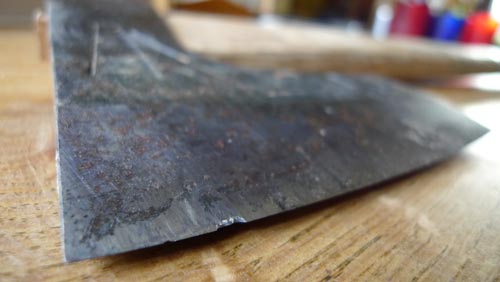 Ouch! Robin just took a nasty chunk out of his Japanese axe, catching it on a nail that must have grown into the wood he was hewing for fence posts for his bridge. That will need to go on the grinder to be removed...