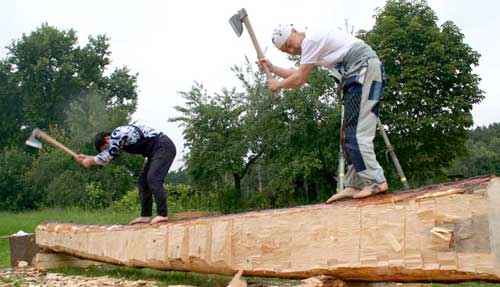 People often comment on the Japanese carpenters' preference for working barefoot ... and they question the safety of it. Clearly it is standard practice in Japan and winter pictures on Amemiya san's site show them wearing soft-soled, flexible shoes so I suspect that having a firm foothold on the log underneath them is of prime importance.
So, what if the axe slipped? Well, their axes are so sharp and heavy you would definitely need a substantial steel toecap to deflect them (and then you would probably damage your precious blade!) I suspect behind it is techniques that mean their feet would be out of the way if the blade travelled further than planned. Bare feet give you the incentive to make sure they will be.
We have been asked on carving courses about whether new students should not wear a protective glove to guard against slips with the knife. Our decision has been that our whole ethos is to teach techniques to ensure this does not happen, and having bare hands gives the best grip and keeps the students mind focused on safety. We get very few injuries so it pays off for us too!