One important aspect of Kesurokai is that the craftsmen also spend social time together, sharing accommodation, food and conversation. This aspect of the project gives real insight into each others cultures, far more than they would gain by just working together.
Food (and drink!) is particularly important given the hard physical work these craftsmen undertake. When Hannes and Michail built our little barn I felt as if I was constantly shopping and cooking, but thankfully they were good at washing up!
On-site in Japan they have constructed a very fine kitchen/dining area with a traditional central fire and are already putting it to good use: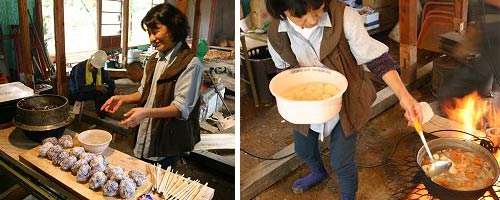 I am very much looking forwards to experiencing real Japanese food, but must brush up on my chopstick skills.