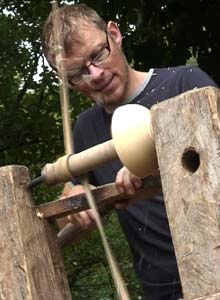 Robin Wood's craft skills are wide ranging. He is perhaps best known for is turning on a traditional foot-powered lathe and the book he wrote about the history of the craft The Wooden Bowl. We teach spoon carving courses together ... he's my husband in case you hadn't figured that out! He also uses traditional timber framing techniques to make bridges, stiles, gates, benches and other countryside furniture.
He is also passionate about preserving and promoting traditional skills and set up the Heritage Crafts Association as an advocacy body for traditional heritage crafts. Working in partnership with Government and key agencies, it provides a focus for craftspeople, groups, societies and guilds, as well as individuals who care about the loss of traditional crafts skills, and works towards a healthy and sustainable framework for the future.
His motivations for attending Kesurokai are twofold. Firstly, from a craft skills point of view he is keen to have the opportunity to work alongside and share skills with the other craftsmen, both European and Japanese. Secondly he is seeking inspiration for ways in which the Heritage Crafts Association might find new ways of passing skills from one generation to the next, a tradition the Japanese have held onto for longer than in the UK.
Full details about Robin here on his web site and here on his blog.