Whilst most of the Kesurokai team are carpenters, we will also be accompanied by two blacksmiths; Manfred Heiser and Gunther Löbach who will make various metal parts needed for the building (nails, barbecue etc). Manfred has been involved in the previous Kesurokai events and can be seen here at the 2007 event working on the top section of the torii with Amemiya san: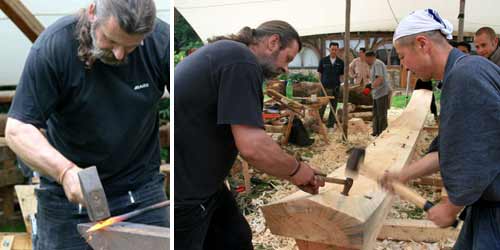 Gunther originally trained as a carpenter and cartwright before he started metalworking and now runs his own business designing and making knives, ScorpioDesign. Knives are also a passion of mine as my last research project involved re-interpreting the skills of traditional Sheffield knife makers for contemporary craft practitioners, working with my friend, knife maker Grace Horne. When we were chatting on Skype at the weekend Hannes was showing me this knife of Gunther's which is fantastic!
(more about it
here
)
Gunther is also kindly translating this blog into German for me, which is an epic task, link to follow when we have it sorted.