For those interested in Japanese axes and other traditional carpentry tools, take a look at the web site of the Takenaka carpentry tools museum. As well as having excellent images of lots of beautiful old tools there is a whole section explaining in quite some detail about them, including regional variations and their cultural significance. They have some connection with the main Japanese Kesurokai events, I recall from a conversation with Hannes a while back, I think they might provide some sort of sponsorship. Anyway, here's a taster from the site: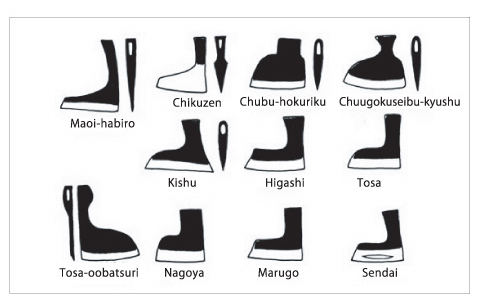 I love the web site but must confess to hating museums, their sterile environment very rapidly gives me information overload, so I was greatly relieved to see this is far away from where we are staying. Visiting it with a group of carpenters would have been a nightmare! I am far happier doing my background research in my own time and space, then watching the tools in action on the work site when I can see how they work and talk to those who are skilled in their use.
The big Gränsfors Bruks parcel arrived at Hannes' house yesterday so our tools are now all ready to go to Japan. This weekend the German carpenters will have a big meeting there to discuss the work plans and I shall hopefully drop in via the wonders of Skype.