Today was our first day where we shared work properly with half the Japanese carpenters coming to work on the European pavillion. It was wonderful to watch as they worked out how to communicate with each other through the common language of carpentry with a smattering of English! It was also wonderful to see them teaching each other to use their favourite tools and different techniques.
Highlight of the day was our host, hewing master Amemiya san hewing the other side of the massive beam that Robin and Hannes were working on in yesterday's video. He also started by singing his wonderful mountain song:
We have been very much enjoying the Japanese food and, whilst I have been finding chopsticks challenging, my dexterity is coming along brilliantly. I am not always sure what I am eating and sometimes the fish / shellfish is rather challenging, but there is not much I can't manage. Here's today's lunch, an assortment of fish and vegetables which are served with plain rice.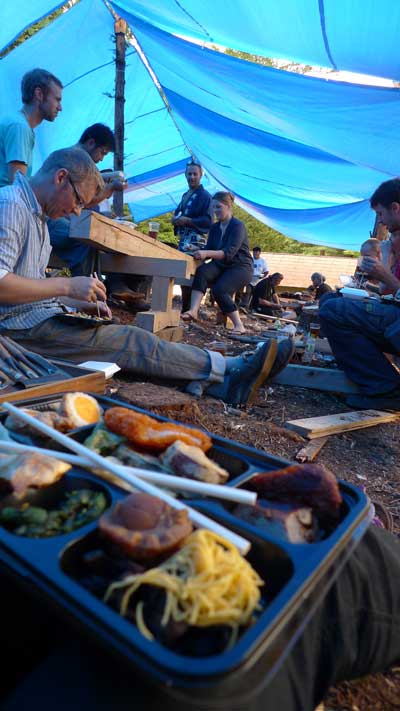 Another pleasure are the huge peaches which they slice and fetch around as a refreshing afternoon snack for us. It is quite hot and humid here and they are kept cool under running water which is diverted from a nearby stream into the kitchen area next to the forge. They looked a perfect picture under the bamboo guttering in a wooden bucket: